By Ashley – Certified Polysomnographic Technologist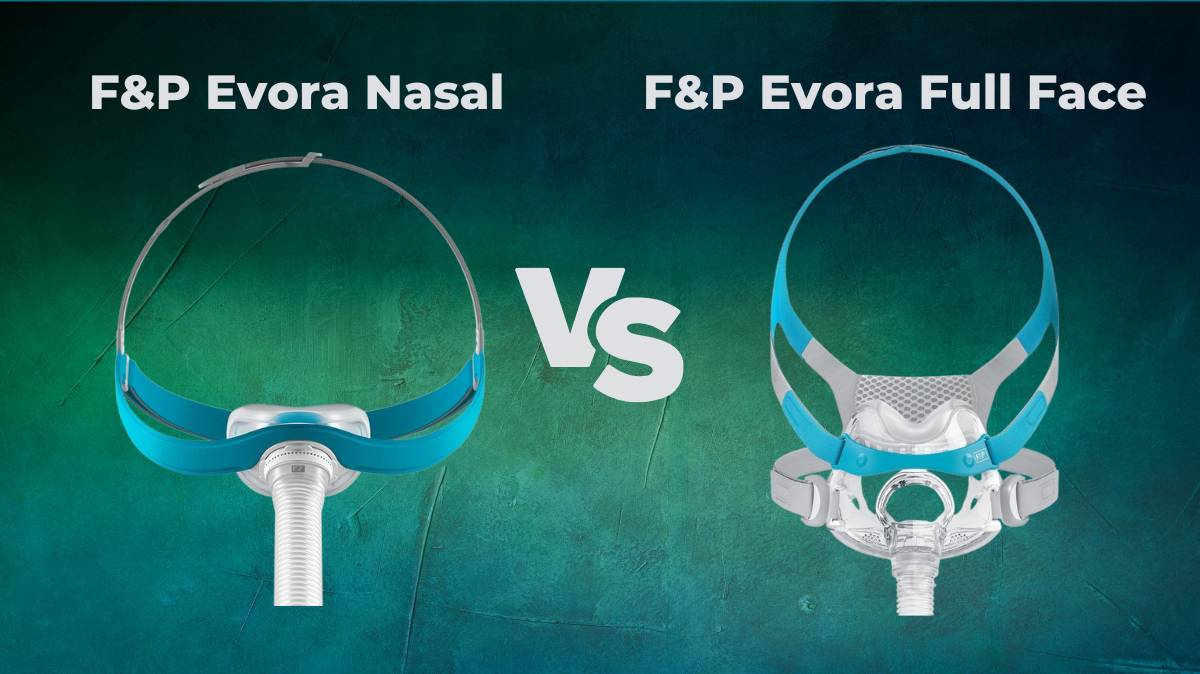 Introducing Fisher & Paykel Evora™, Fisher & Paykel Healthcare's new line of compact masks that includes a nasal and a full-face CPAP mask. Both offer an open-face design, are lightweight, and are easy to use. Yet, one is a nasal mask while the other is full-face. So, let's explore these masks in some detail to help you find an ideal mask for you. 
Nasal Or Full-Face? Quick Rundown
If you're not sure if a Nasal or a Full-Face mask, in general, is the best fit for your needs, I'd really recommend that you read this article we've put together for you in our knowledge base. 
But to give you an idea, the main reason to opt for a full-face mask is being a mouth breather. A full-face mask prevents air leaks through your mouth. And it is important to prevent excessive air leaks because they diminish the effectiveness of CPAP therapy.
A nasal mask is a great alternative for side sleepers, those of us who become claustrophobic easily, and CPAP users with really flat nose bridges. It is just a less intrusive and lighter mask. 
Now that we've touched on the reasons to opt for a certain type of CPAP mask, let's turn our attention to the Evora mask lineup because these masks contain innovative elements that improve on some of the drawbacks of nasal and full-face masks. 
To get started, here is a chart that offers a side-by-side comparison.
Fisher & Paykel Evora Nasal and Full Face Mask Comparison Chart
| | | |
| --- | --- | --- |
| | Evora Nasal Mask | Evora Full Face Mask |
| Weight | 63g | 114g |
| Open-Face Design | Yes | Yes |
| Floating Seal | Yes | Yes |
| Stability Wings | Yes | Yes |
| Headgear Sizing | One Size | One Size |
| VentiCool Headgear | No | Yes |
| Quick Release Clips | No | Yes |
| Cushion Sizing | Small, Medium, Large, Wide | Extra-Small, Small-Medium, Large |
| Swivel Elbow | No | Yes |
| Points of Adjustment | 3 | 5 |
| Exhalation Port Direction | Forward and Up | Downwards |
Key Similarities and Differences of the Evora Masks
Size and Weight
The first thing that may strike you when you look at these masks side by side is their relative size and weight. Evora Nasal is almost half the weight of its sister mask. And that is to be expected because nasal masks are generally smaller and lighter. More on this in a moment.
Open-Face Design
Both masks offer an open-face design, which means that you don't have anything that would obstruct your view. You can wear eyeglasses with either mask if you want or need to.
An important benefit of the open-face design in the Full Face mask is that if you want or need a full-face option yet are a beginner or suffer from claustrophobia, the Evora Full is a great option.
You see, normally, a full face mask involves a stabilizer bar that runs along the bridge of the nose to the forehead and is secured by means of a forehead strap, the way you can see it here, on the Fisher & Paykel Vitera.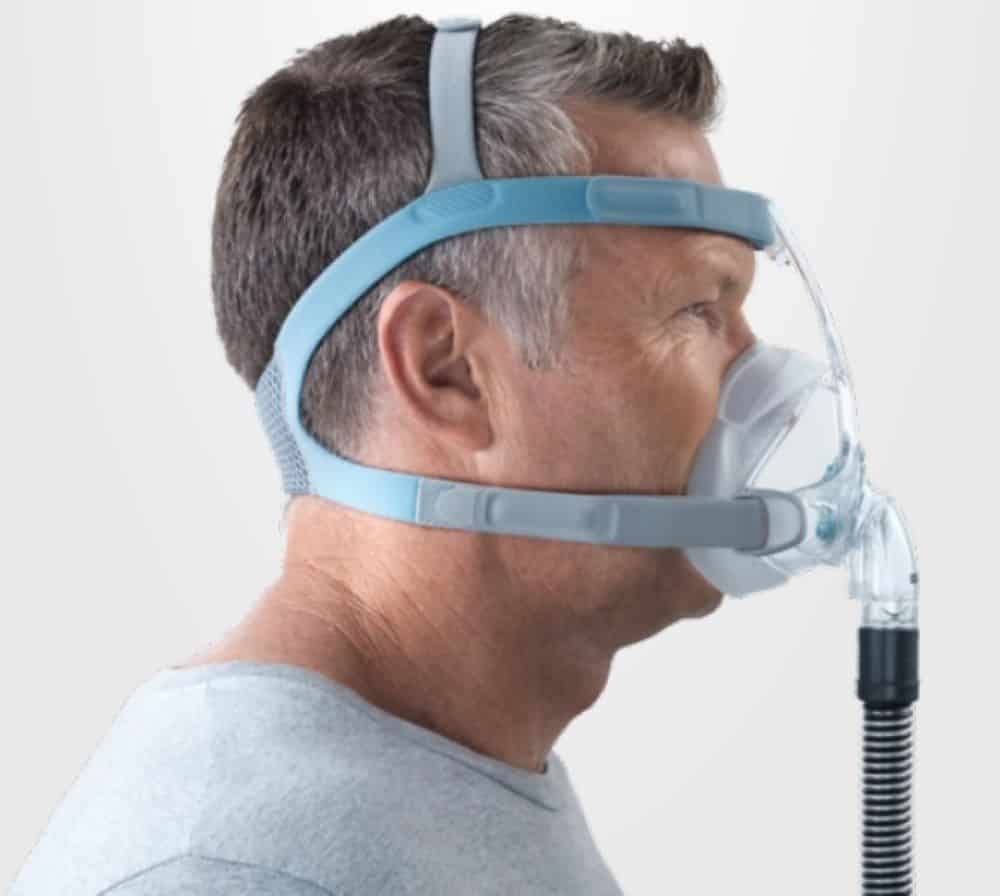 Conversely, the Evora Full has eliminated the stabilizer bar. The result is an open-face design that reduces view obstruction and provides a feeling of greater freedom.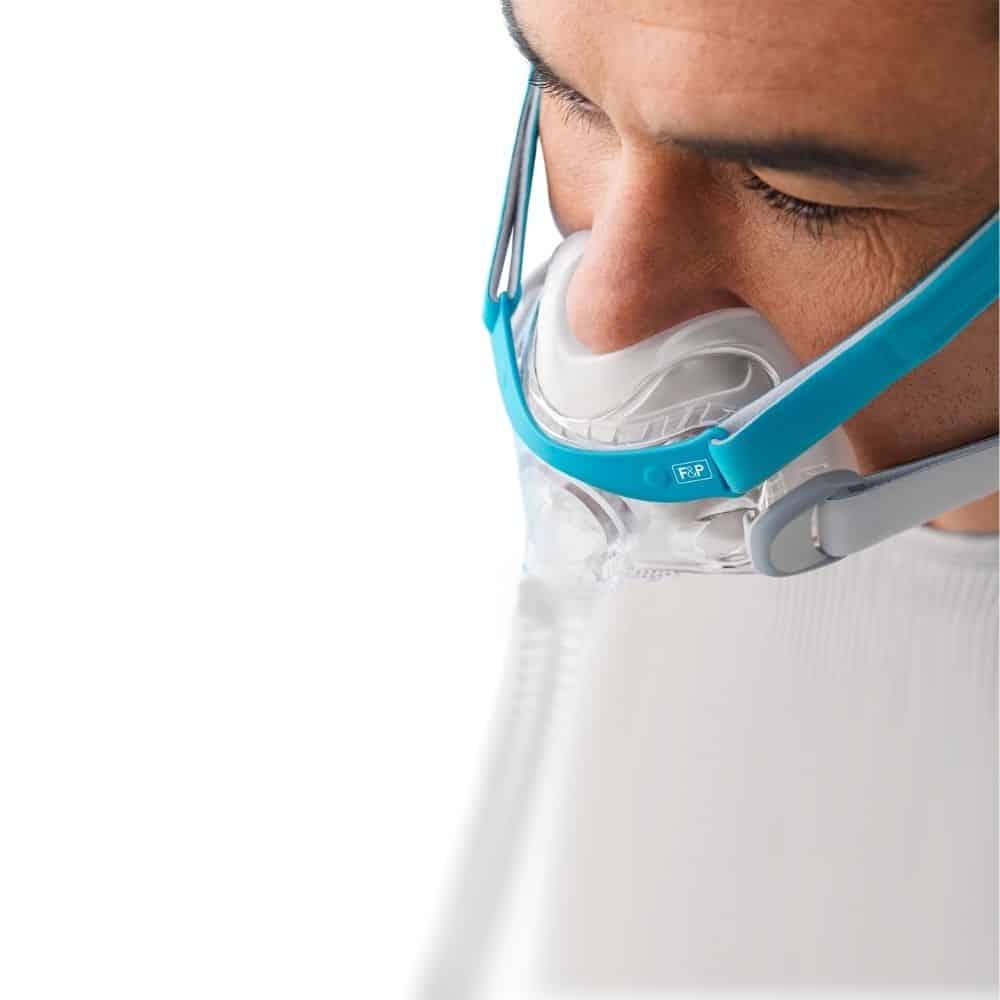 Removing the stabilizer bar comes at the cost of diminished stability. But this is a subject for a different comparison. For our detailed discussion of the F&P Vitera vs Evora full face masks, please read this article.
Cushions, Sizing, and Fit
The cushions on both the Evora nasal and full face masks have been designed with so-called 'floating seal' and 'stability wings.' The floating seal engages to wrap around the nose, providing a flexible and comfortable seal. And the stability wings are designed to keep the floating seal in place throughout the night.
These innovative elements help keep the mask in place when you toss and turn at night. By the way, they also help mitigate the lack of the stabilizer bar on a full face mask that we talked about just now.
As you could see in the chart, the headgear comes in only one size on both masks. However, the cushions come in a variety of sizes. Evora Nasal comes with four cushion sizes, and the Full mask comes with three.
Thus, whichever mask you opt for, you're sure to have enough sizing options to attain a perfect fit. Please note that while the Nasal mask has only three points of adjustment, the Full mask has five. This means more ways to get an ideal fit in the mask that offers fewer cushion sizes.
Importantly, Evora Nasal has 64% less headgear contact to the face, and its soft-knit material provides comfortable support during the night while helping avoid marks on the face.
Comfort and Ease of Use
VentiCool headgear is a cool innovation (pun intended) that allows the back of your head to breathe when you wear the Evora Full by enabling heat and moisture to dissipate.
However, the Nasal mask only has two straps wrapped around the head while the Full mask has three. This means that the Nasal mask is naturally lighter and does not really necessitate extra ventilation. That said, the VentiCool headgear technology is a nice improvement on other full-face masks and previous F&P models.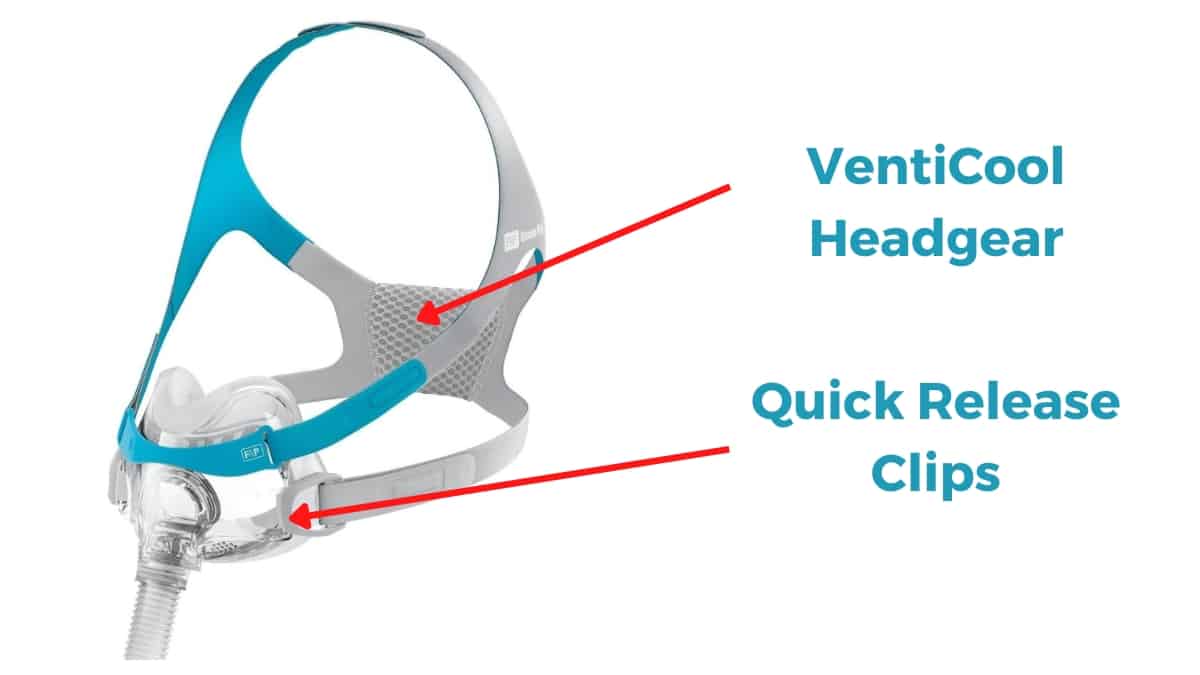 Quick Release Clips allow you to adjust your straps once and fix them in that position, even when you need to disassemble the mask to wash it. It's a 'set it and forget it' type of arrangement.
Instead of having to readjust your headgear straps every time you take the mask on and off or disassemble it, you simply unlock the clips with an easy movement, and your mask is off while maintaining your set sizing.
These clips are only available on the Evora Full. But please note that the Nasal mask has been designed to be put on and taken off easily with the world's first CapFit™ headgear.
Designed to be put on like a baseball cap, this mask is put on in a simple and intuitive movement that ensures a perfect fit and tight seal, every time. This new design also allows for greater freedom of movement while keeping the mask comfortably in place while you sleep.
An important comfort feature is the swivel elbow available on the Evora Full. If you happen to move around quite a bit during sleep, the elbow will allow for more movement without producing a leak because the swivel part enables the tube to move around more than the stable design you'll find on the Nasal mask. 
That said, if you tend to sleep on your back, this is of much less concern to you. Side and stomach sleepers, though, will appreciate the swivel elbow.
Exhalation Ports
Let's talk about the direction of the air that comes out of the exhalation port on each mask. The air streams forth from Evora Nasal in a forward and slightly upward direction. The ideal direction for exhaled air is upwards. The forward angle is a potential issue for a bed partner.
However, the port on Evora Nasal is designed with radial air-flow – laser-drilled exhaust holes designed to minimize noise and draft. You can barely feel the air within a few inches. So, no need to worry about your exhales bothering you or your bed partner.
The exhalation port on Evora Full is pointed downwards, which may be considered a disadvantage if warm air coming out of your mask bothers you or your bed partner. Please note that this is only a minor potential issue.
Fisher & Paykel myMask™ App
Finally, one advantage of using the Evora line of CPAP masks is the Fisher & Paykel myMask™ app designed to support patient mask setup. The app contains step-by-step videos specifically put together for Fisher & Paykel masks. So, it's a great, problem-solving app. 
I hope this article has been helpful. So, choose your CPAP mask and, wherever you happen to be, sleep tight!