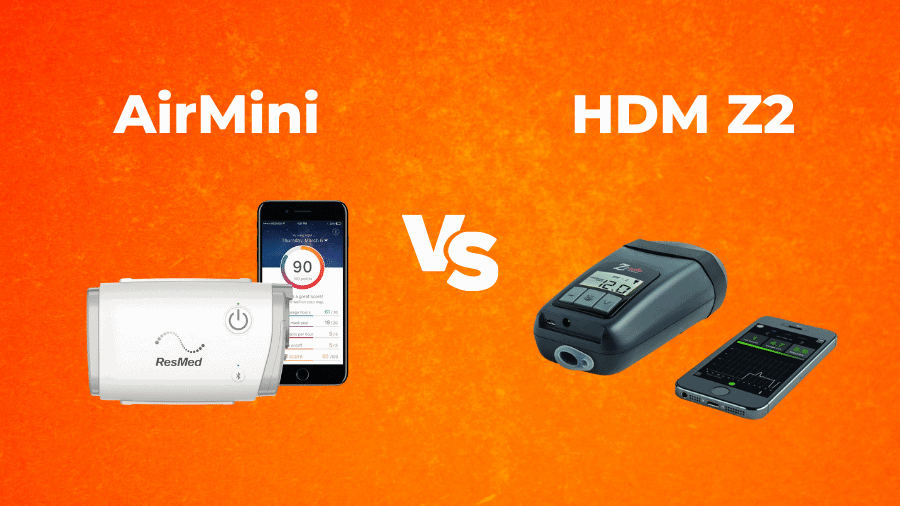 Both the AirMini and the Z2 are highly capable travel CPAPs worthy of your consideration. But they have important differences. Let's explore these machines in some detail.
First, we'd like to give you a bird's eye view of the machines in comparison in the table below.
ResMed AirMini vs HDM Z2 Travel APAP Comparison Chart
| | | |
| --- | --- | --- |
| | ResMed AirMini | HDM Z2 Auto |
| Release Date | May 2017 | Mar 2019 |
| Dimensions (Size) | 5.4 x 3.3 x 2.1 inches | 6.48 x 3.30 x 2.02 inches |
| Footprint | 17.82 sq inches | 21.39 sq inches |
| Weight | 10.6 Oz | 10.4 Oz |
| Humidification | HumidX & HumidX Plus Heat Moisture Exchangers (HME) | Waterless – Heat and Moisture Exchanger capsule |
| Quietness (Noise level) | 30 dBA | 26 dBA |
| Operating Pressure Range | 4-20 cm H2O | 4-20 cm H2O |
| Operation Mode | CPAP/APAP | CPAP/APAP |
| Power | 100-240V, 50-60Hz | 100-240V, 50-60Hz |
| Integrated Battery | No | Optional (at $359 extra) |
| Ramp Time | 0-45 minutes | 0-45 minutes |
| Mobile Device App | MyAir (Apple 4.6 stars, Android 4.4 stars) | Nitelog (Apple 1.5 stars, Android 2 stars) |
| Altitude Adjustment | Automatic up to 8500 Feet (2591 m) | Automatic up to 8000 Feet (2438 m) |
| Bluetooth | Yes | Yes |
| Leak Compensation | Yes | Yes |
| For Her Mode | Yes | No |
| Expiratory Pressure Relief | Yes (EPR) | Yes (Z-Breathe) |
Similarities between ResMed AirMini and HDM Z2
Size and Weight
In terms of physical characteristics, the machines weigh almost the same at just over 10 oz and are practically weightless, which is a very welcome aspect of any travel CPAP.
Both machines are very small. In fact, the AirMini was considered the smallest travel CPAP until the advent of the Transcend Micro which is now the tiniest CPAP on the planet.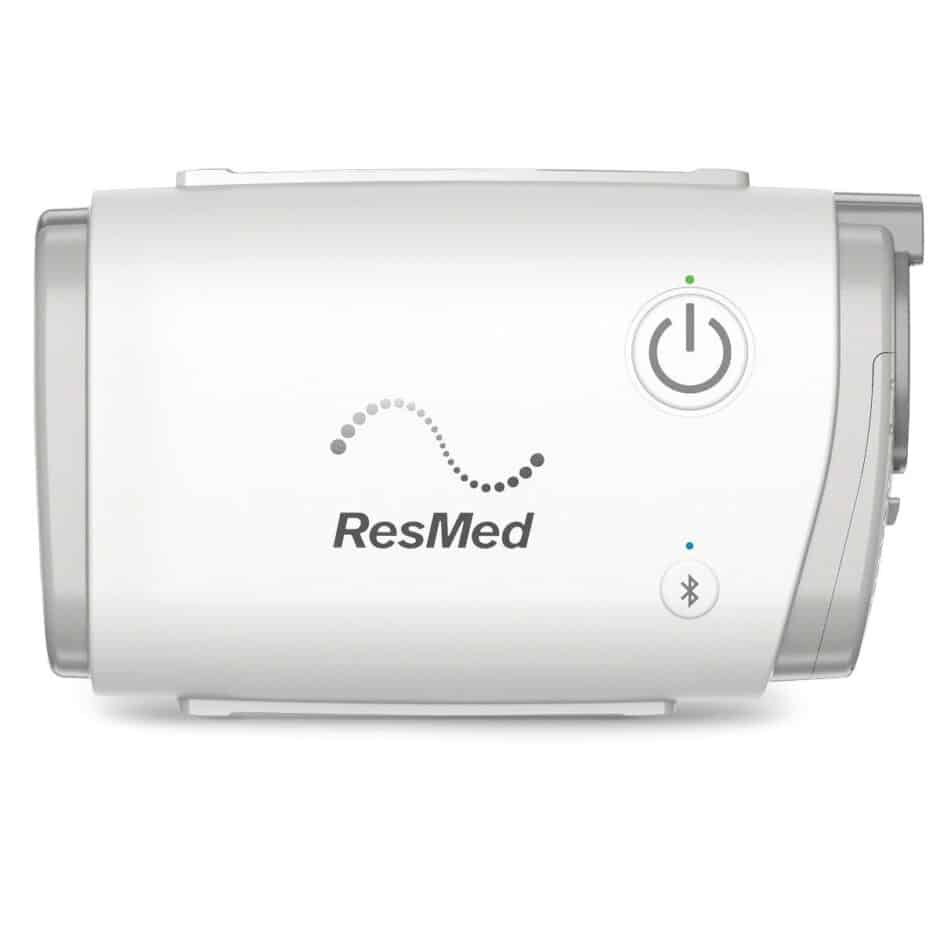 So, while there is a small difference in footprint, and the Z2 is a tad bigger than the AirMini, both are very small machines that are easy to carry around.
Humidification
Both the AirMini and the Z2 offer integrated waterless humidification. Both use special Heat Moisture Exchange filters (HME) filters that capture the heat and moisture of your own breath and serve it right back to your airways.
While not a complete replacement for a full-blown humidifier, HME is a neat little system that works. 
Comfort Features
Both the AirMini and the Z2 have AutoPAP functionality. This means that they can provide variable pressure throughout the night. This is a big deal, as you probably already know.
Both machines offer the following comfort features:
Ramping
EPR (Expiratory Pressure Relief)
Leak compensation
Ramping allows the machine to start you off on lower pressure and only begin increasing it after a set period, which is up to 45 minutes on each machine. This enables you to fall asleep at a lower pressure, making it a great comfort feature.
Expiratory Pressure Relief lowers the pressure while you exhale, further easing your CPAP therapy.
And leak compensation detects mask leaks and increases air pressure to compensate for the loss.
Bluetooth Connectivity
Both AirMini and Z2 connect to smartphones via Bluetooth, enabling you to monitor your sleep data. Without getting into all the features of each sleep app – MyAir for AirMini and Nitelog for the Z2 – we'll mention an important consideration. 
When technology works well, it is great and a boon to humanity. When it doesn't, it is of not much use. The average rating of the MyAir app is 4.5 stars in the Apple Store and Google Play. The Nitelog app's average rating is 1.75 stars. 'Nuff said.
Other Similarities
Both machines have universal power at 100-240V, and 50-60Hz, which means that you can use them in any country. You may only need a power adapter to fit power outlets in some countries. But you will not need a power converter, which is great because one of those can add significant weight to your luggage. 
Both units operate at a Pressure Range of 4-20 cm H2O. And both have automatic altitude adjustments of 8,500 ft (AirMini) and 8,000 ft (Z2). 
Differences between ResMed AirMini and HDM Z2
Noise Level
Perhaps because the Z2 is a newer machine (it is 2 years younger than the AirMini), its technology has allowed for quieter performance. While AirMini is not exactly loud at 30 decibels, the Z2 operates at 26 decibels, which is virtually whisper-quiet. 
Integrated Battery
If you need to use a battery with your travel CPAP, battery options are available for both the AirMini and the Z2. However, only the Z2 offers an integrated battery unit.
That said, let's look at the options in some detail.
The Z2 is complemented by an optional Powershell battery module. And while it is an "integrated" module, it does not disappear in the body of the Z2. Instead, it is a battery unit that weighs an additional 15.5 ounces and is 8.25 x 4 x 3.25 inches in size.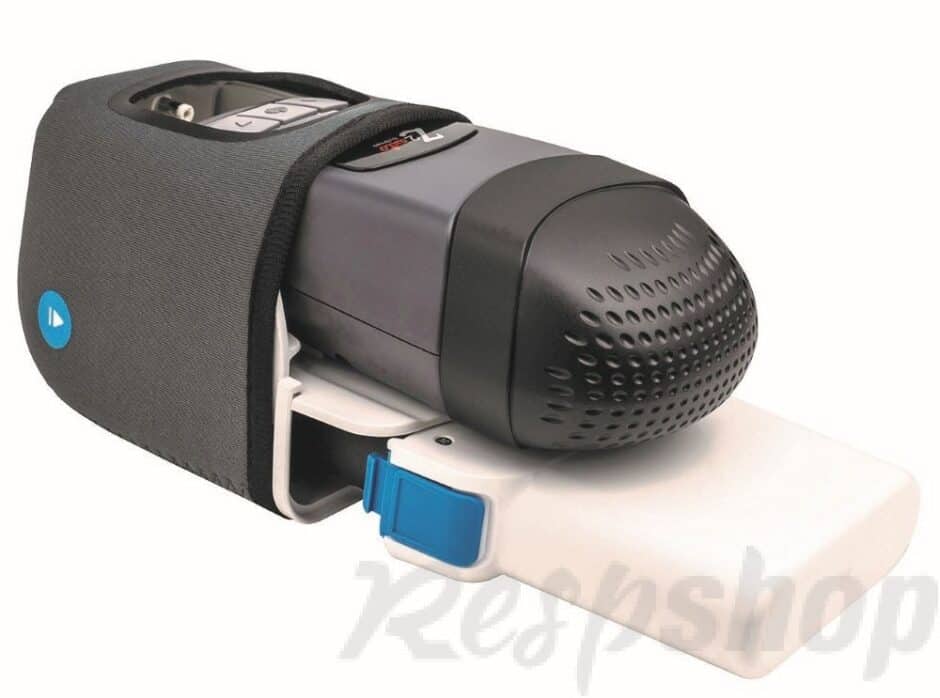 You have an option of purchasing it at $359 extra when ordering the Z2, which is about $90 less expensive than if you buy it separately later.
Conversely, the AirMini can be powered by a third-party battery, such as the Medistrom Pilot-24. You will also need the 65W ResMed AirMini DC/DC Converter to connect the battery to the unit.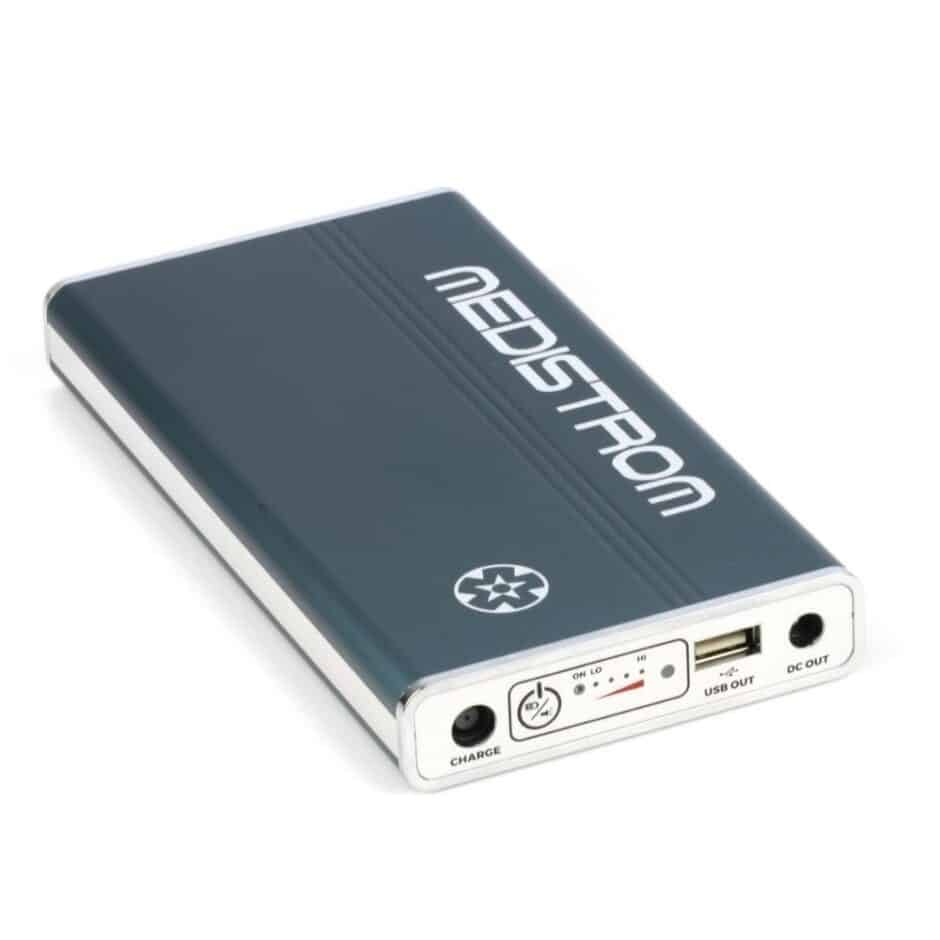 Pricewise, the battery units for each of the machines come out to about the same amount. Although you may find the integrated unit for the Z2 somewhat more elegant.
For Her Mode
Finally, the ResMed AirMini offers the AutoSet For Her mode of operation that is specifically geared towards female users. This feature is absent from the Z2. 
The For Her algorithm is more sensitive to flow events, providing smoother sleep for women.
Our Verdict
So, which machine should you purchase in the end?
Well, the features are all laid out before you. The AirMini is a little more expensive than the Z2 at a price tag difference of about $110. But it has a For Her mode, which is something to consider if you're a woman and somewhat extra sensitive to CPAP air pressures.
If you want to monitor your sleep data, you'll probably find the MyAir app easier to use. So, if you're not overly sensitive to noise (since the AirMini is a bit noisier) and don't mind the slightly higher price tag, then the more modern design of the AirMini may just sway you its way.
And whichever machine you end up choosing, sleep tight!