The ResMed AirMini is a highly popular travel CPAP for many reasons. It is the smallest and lightest travel CPAP on the market. And it offers waterless heated humidification, excellent connectivity options, and all the Auto CPAP features that have made ResMed the industry leader.
In this article, we'll go over all the main features of the AirMini so you could make an informed decision in purchasing your travel CPAP.
Travel CPAP devices can sometimes be viewed as a necessary evil for those who like to go camping or travel regularly for work or pleasure. But over the years, travel CPAPs have increasingly become a more viable alternative to use regularly for your ongoing sleep therapy needs while continuing to have smaller footprints.
The AirMini has been available for a number of years now. It was ResMed's first travel device released to the market and is still their current and only model in the category.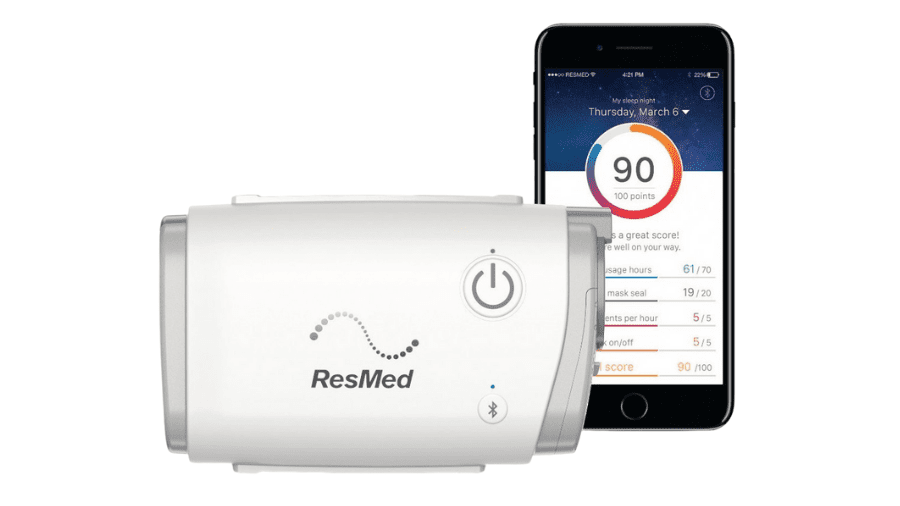 ResMed AirMini Size and Footprint
Speaking of small-footprint devices, there are none smaller than the ResMed AirMini. Packed with features yet fitting in the palm of your hand, it's a device you might just need to be careful not to lose.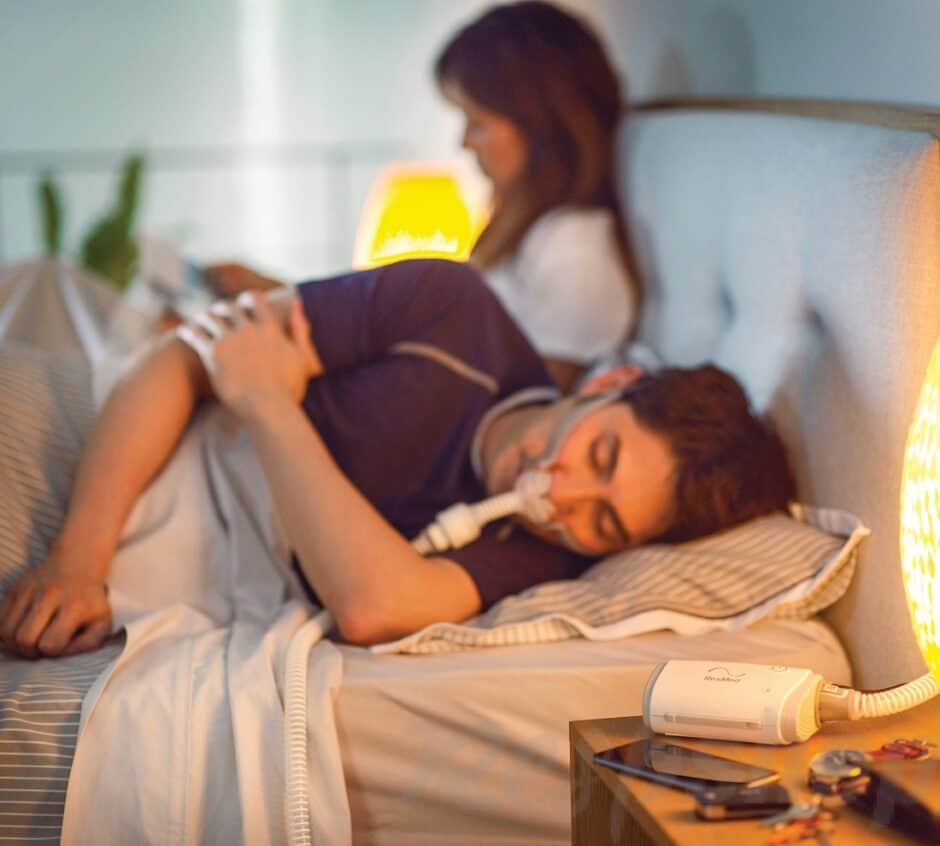 The highly compact footprint is still the one massive advantage that the Mini has over other ResMed models as well as over most other travel devices. At the time of its release and to this day, the AirMini is the smallest CPAP machine available. It measures just 5.4" wide, by 3.3" tall, by 2.1" deep.
It fits very comfortably in the palm of your hand, in your trouser pocket, or hidden behind a desk plant. So, for those of you who are mostly concerned with buying as portable of a unit as possible, you should definitely take a close look at what else the AirMini has to offer.
Using AirMini as an Everyday CPAP Device
While a little bit odd by comparison to one of the larger units at first, this unit can be used as your everyday machine. But if that will be the primary use for whichever CPAP machine you are looking to buy next, then there are likely better options than the AirMini – here's why.
Several limiting factors come into play when working with a device this small. You likely won't have the same level of features as a full-size unit simply because of the physical limitations, which is true of any travel device. 
Now, ResMed did its best to offset some of these natural limitations with a few innovations on the AirMini with mixed success. 
The AirMini and Humidification
As you can tell at first glance, the AirMini does not have a traditional humidifier attached. This is, of course, common to travel devices, Philips DreamStation Go being the exception.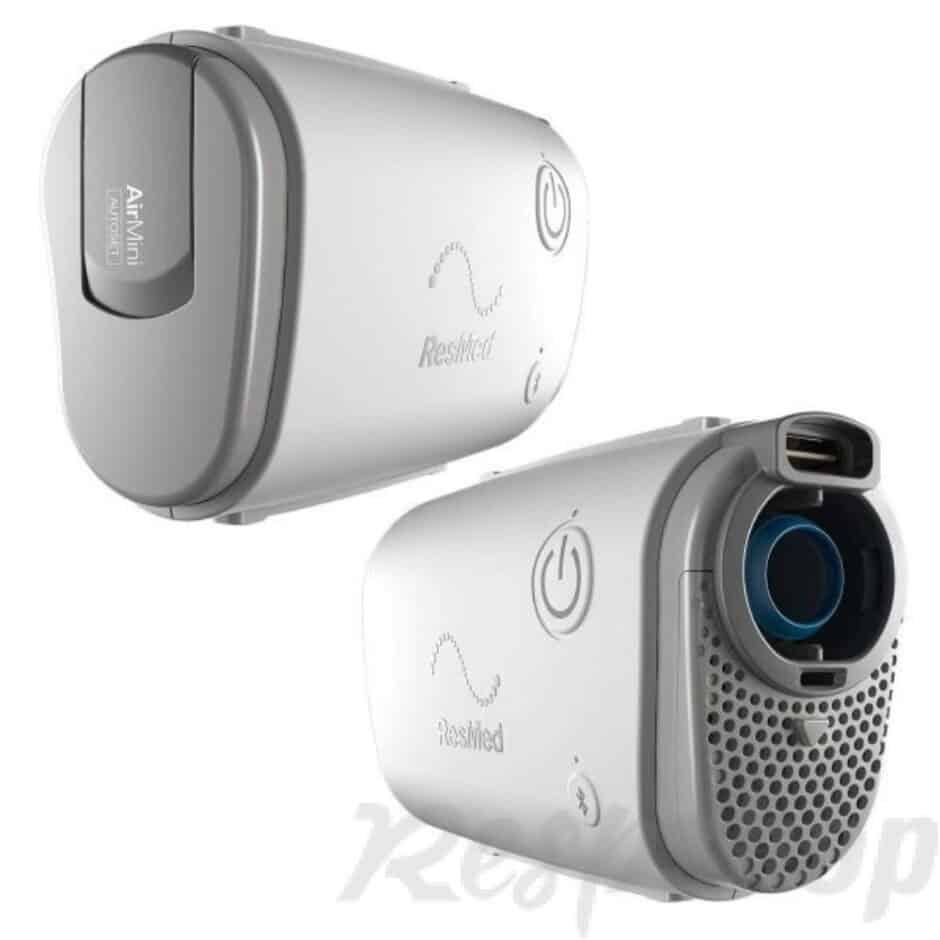 And as you are likely aware, the absence of a humidifier normally means dryer air, which in turn can often lead to a dry mouth. The way ResMed tried to combat this, while still keeping the footprint of the device so small, is by incorporating a unique filter.
They call these Heat Moisture Exchange filters or HME filters. And they come in two styles: HumidX and HumidX+. What they are designed to do is screw into a special tubing that is only for the AirMini.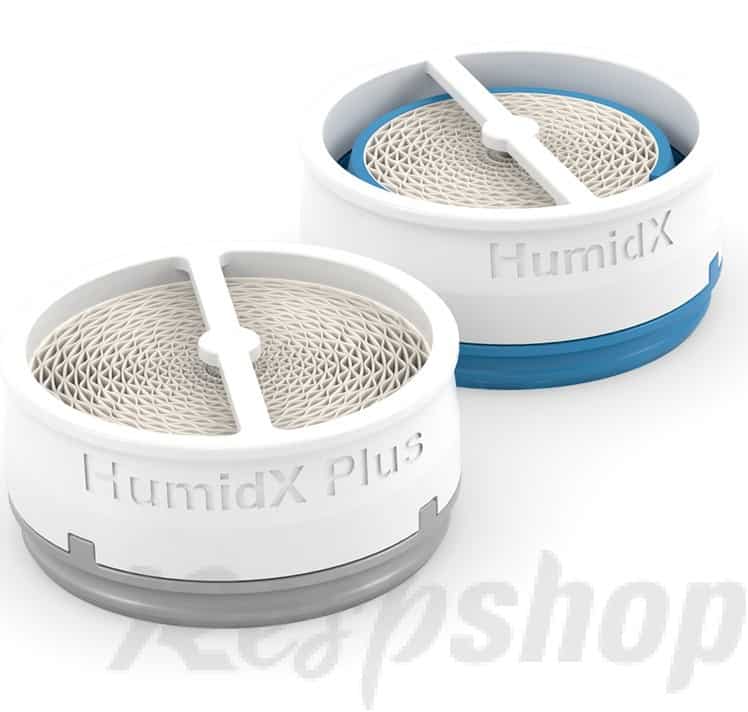 As you breathe out, the heat and moisture from your exhalation are captured in these HME filters. So, when you breathe in, the air passes through the filter, and the trapped heat and moisture from your exhale are sent back into your lungs. 
In other words, you recycle the heat and moisture of your own breath – kind of an interesting concept. The difference between the HumidX and the HumidX+ is that the plus captures even more moisture.
So, the plus is recommended for particular dry climates. If you intend to take this travel device to the snowy mountains or the Arizona desert, then grab a few of these HumidX+ filters.
These filters are, of course, more expensive than your average CPAP air filter, and ResMed does recommend replacing the cartridges every 30 days, and they can begin to smell before that, so you may find yourself replacing them more regularly.
That's one of the reasons that this is probably not a good choice for an everyday machine when you consider that these cartridges are about $50 for a 6-pack.
Overall, we like the inventive concept of a system that gives some of the benefits of humidification without the need for a physical humidifier attached to the unit, and the humidification amount that you'll get from the AirMini might be fine for a night or two while away.
But if you are used to having a designated humidifier with your CPAP device, then this will certainly feel like a step backward in regards to comfort.
AirMini Tubing and Compatible Masks
Another point of difference of this machine that is directly related to the HME filters is the unique style of tubing on the AirMini. This tubing is different from what you see on every other CPAP device, and that's for a couple of reasons.
First, the air inlet connector on the device itself is smaller, which helps when the unit is designed to be so small. And second, it allows for this chamber to house the heat moisture exchange filters.
The downside is that since the AirMini requires this connection style with your mask as well, it means that you have to use one of three ResMed masks: the P10 nasal pillow mask, the N20 nasal mask, or the F20 full face mask. The N30 nasal cradle mask is another choice that can be used with a special setup pack.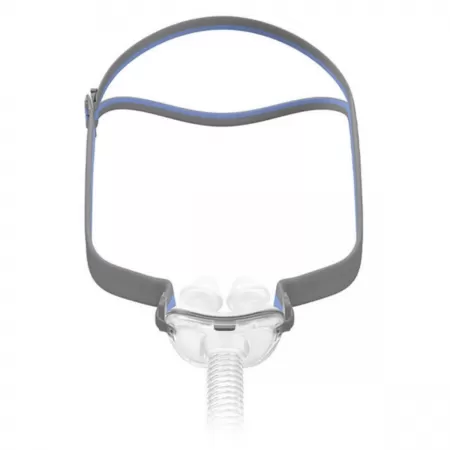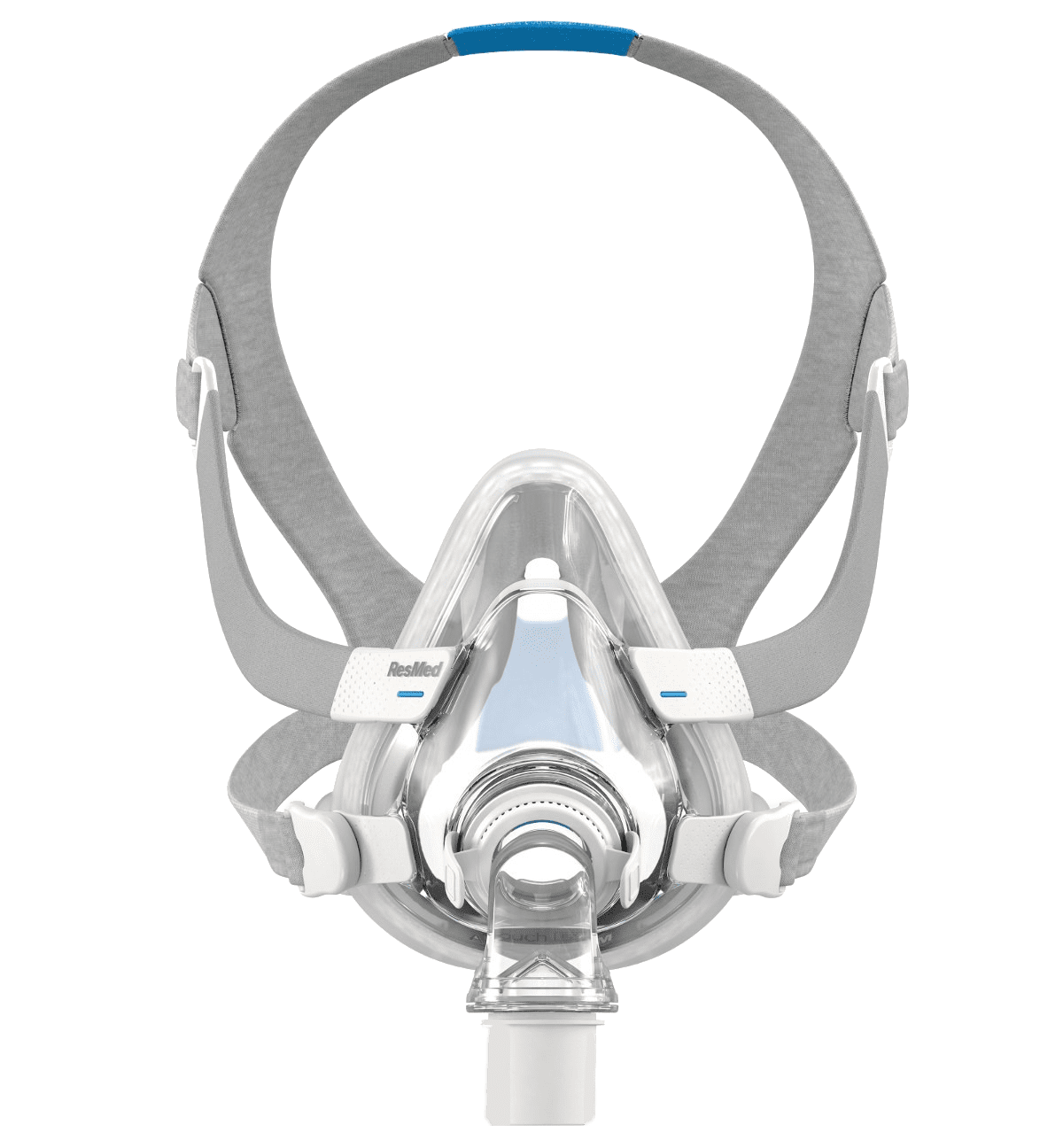 So, if you use a different model of mask that you are comfortable with, then frustratingly you won't be able to use it with the AirMini. When you purchase the AirMini through respshop.com, you can choose your preferred style of mask that the unit will ship with, at very competitive prices.
AirMini User Interface and the AirMini App
Something else that you'll notice on the AirMini is that there is no screen. In fact, there are only two buttons on this entire device – the Start / Stop button and a small Bluetooth button.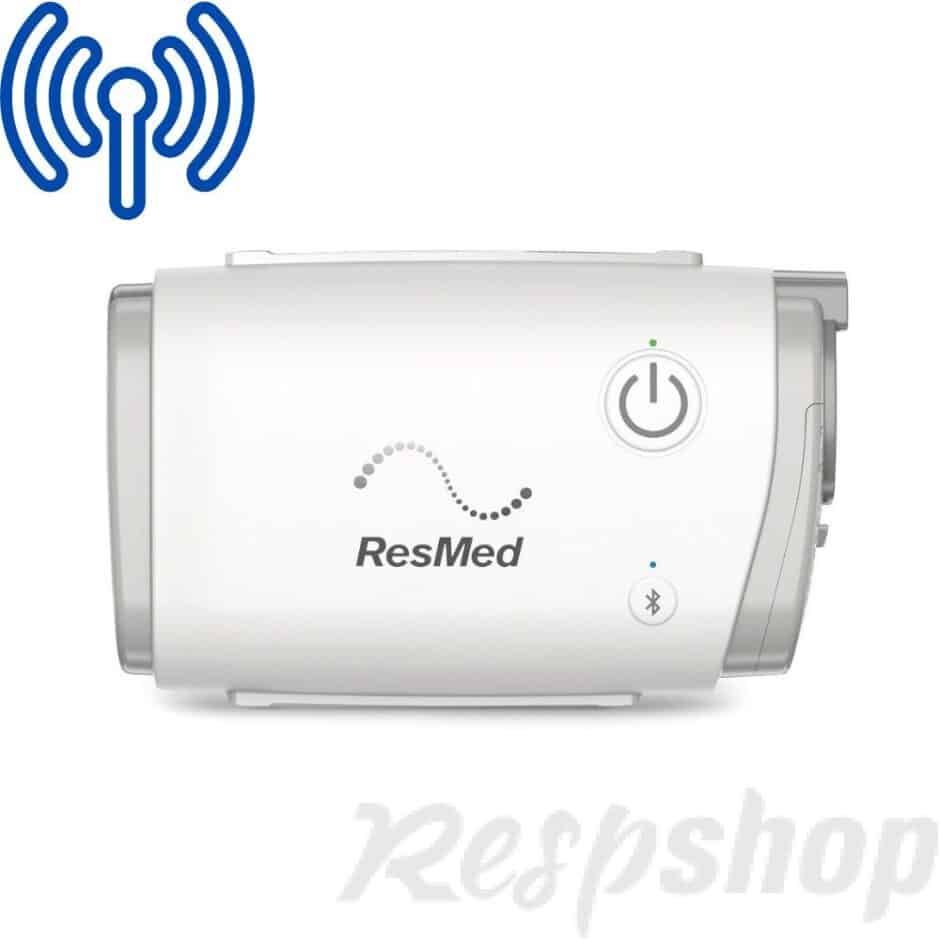 So, how do you operate this unit and get feedback from your sleep therapy? Well, it's all done from the AirMini app.
You can download the app for your Apple or Android device, and pairing it with the AirMini is easy and doesn't require you to create an account, which is nice. Once paired, you'll have quick access to view details of your sleep therapy from the past month from the app's Dashboard. 
This at-a-glance info is designed to give a simple snapshot of the entire night's therapy rather than any hourly breakdown or immersive data points for more detailed self-monitoring of your sleep therapy.
This is because the AirMini is marketed as a travel device, and for those who like to upload their data in 3rd party software and monitor their waveforms, this is another example of why it probably wouldn't be a good everyday device for you.
The app also contains guides to walk you through setting up these masks for use with the AirMini: AirTouch N20, AirFit N30, and F20 with HumidX.
One thing to note is that there is no SD card slot on the AirMini, either. So, the only type of memory is internal, and it's not much internal memory at that because it only records one month of usage, and there is no easy way to get that usage data back.
The Dashboard is also where you access the device settings, such as your EPR, Auto Start and Stop, and Ramping settings, which includes sleep detection.
If you are unsure what these mean, get in touch with us at Respshop. We have respiratory therapists, polysomnographic techs, and a nurse on staff to guide you through the details of CPAP machines, their common features, and terminology.
If you want to access the Clinician menu, then tap the Wi-Fi and Bluetooth icon from the Dashboard and then press and hold the ResMed and AirMini logos with two different fingers for a couple of seconds.
The Clinician menu allows you to change the device mode, which includes AutoSet for Her, adjust the pressure and comfort settings, and more.
From the Sleep tab, you can turn the unit on or off. You can also do so manually on the device itself. And then once turned on, this is also where you can monitor your sleep therapy in real-time.
We like the simplicity of the app. It's easy to navigate and pretty streamlined – most everything you'd want access to is only a few clicks from the root menu, and the connectivity is fast and simple. So, for handy, quick info that's available wirelessly, it performs well.
That said, if you don't own or use a smart device, then the AirMini is definitely not for you as the device simply isn't designed to function without one.
AirMini and Noise Level
The last couple of things to note is that travel machines are typically noisier than standard units. Their small body means that there is no room for sound abatement foam. 
In addition, because they often have smaller motors, these motors have to work a little harder to produce the air pressure required.
Quite honestly, the difference in sound is minimal with the AirMini. This is still a very quiet machine, and we've heard next to no complaints about the sound level from users who use this device regularly.
AirMini Power Options
The other item to consider when evaluating whether or not the AirMini is right for you is power options. Of course, if you are looking to buy a travel CPAP device, chances are that you'll be using this machine somewhere with no access to a traditional power outlet at some point. And that's not a problem with the AirMini.
ResMed has made an AirMini DC Converter so that you can power the device from a 12 or 24-volt cigarette lighter. But let's say you're taking the device camping in the wilderness and won't have access to any form of power. Then you'd need to pick up a battery power supply. 
ResMed does not make one of these for the AirMini. But there are reputable aftermarket models built for CPAP devices, and you'd get one or two nights of use from them, depending on your pressure settings.
To connect the AirMini to a battery, you'll need the 65W ResMed AirMini DC/DC Converter.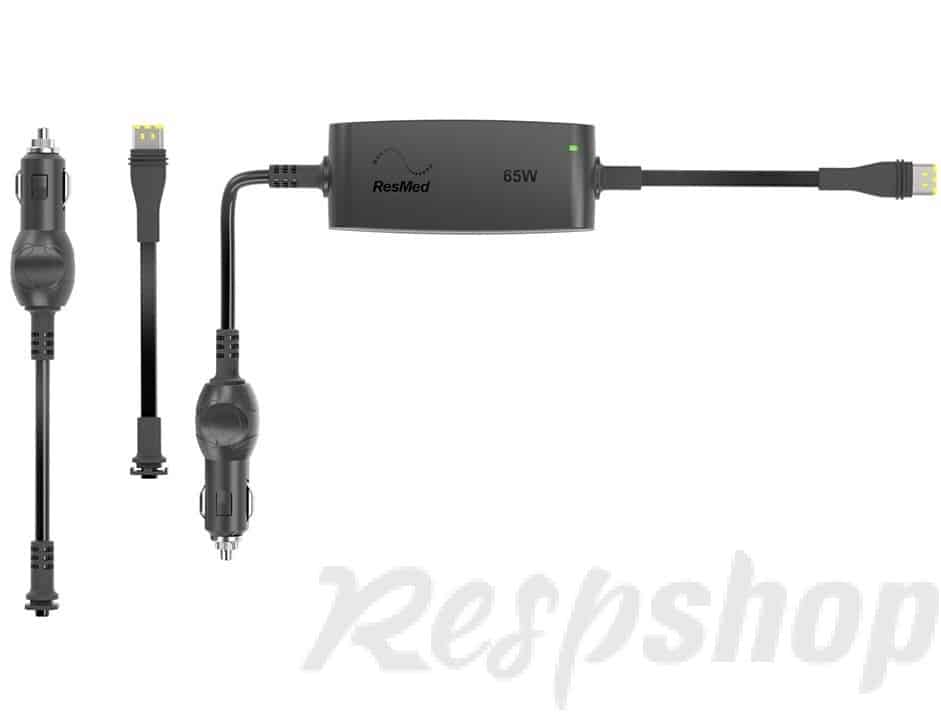 These battery power supplies cost hundreds of dollars but can often be used on more than just the AirMini. So, if you don't already own what you need, consider the additional cost of the accessories you'd likely want to buy with the AirMini to make it truly travel-friendly.
Is AirMini the CPAP Machine for You?
The Pros of the AirMini
ResMed currently has the best product line, and their focus on app-driven feedback of your sleep therapy is better than anyone else's on the market, which is important.
They are a leader in the industry, and their support and advancement of their various software and internal algorithms are going to continue. You can also find plenty of aftermarket accessories as well as support from other users. 
It's very compact and lightweight, and we like the ingenuity of thought behind such features as the heat moisture exchange system. Whether you enjoy sleeping with this added weight close to your airway depends on the user. Most people don't mind, although we have heard of some who find this unit unusable because of it; which brings us to the cons.
The Cons of the AirMini
Why would you pass on the AirMini? Well, if you are looking for a hybrid machine to use as your everyday CPAP device but also want one that is reasonably portable, then the AirMini is probably too far on the portable side.
The HME filters are not a like-for-like replacement of a designated humidifier for prolonged use. Also, if you love a particular style of mask that isn't compatible with the unit, you will need to use one of the three (or four) ResMed masks that have the correct attachment for the unit.
And lastly, you might not choose the AirMini because of the price. It's one of the more expensive units to purchase, plus the HME filters cost considerably more than your typical CPAP filter.
That said, you can still buy a regular filter for the AirMini if you prefer; you would just be losing one of the unit's strongest selling features by doing so.
Final Thoughts on the AirMini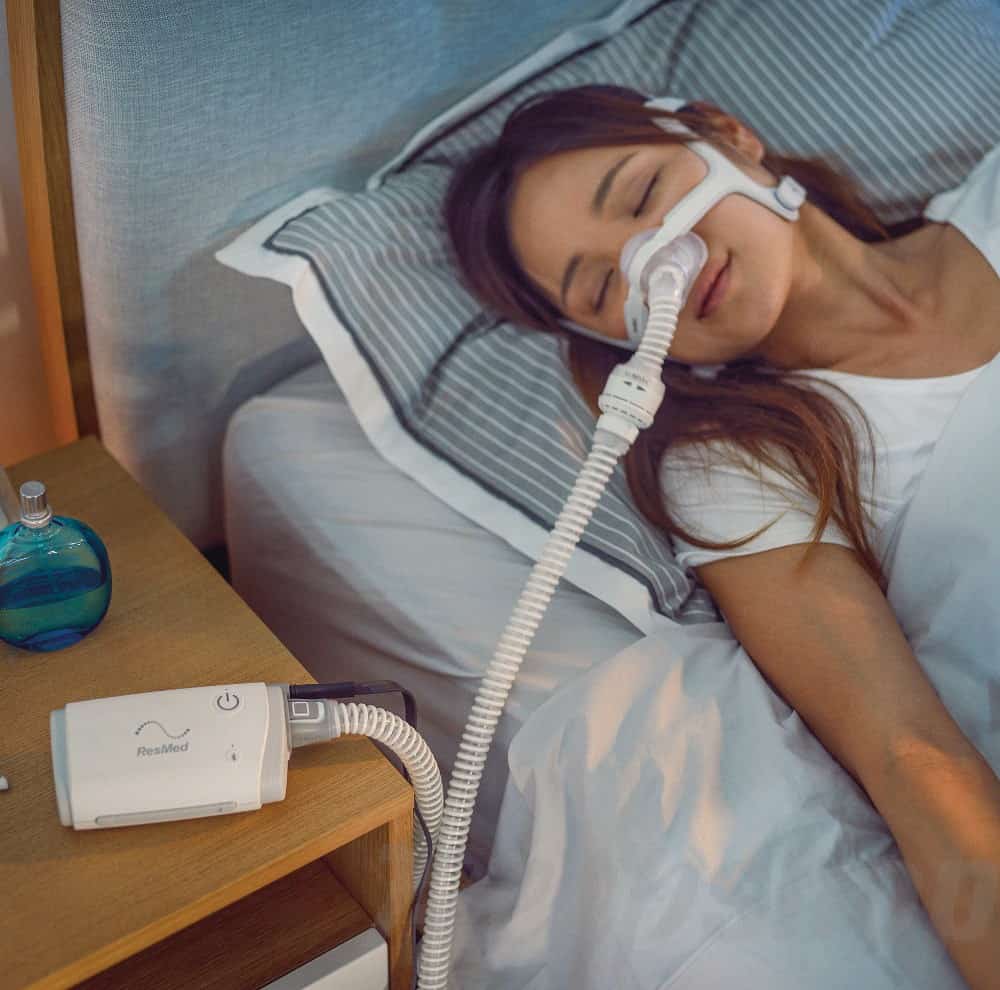 Overall, If you are looking to buy a travel CPAP that you can easily pick up and go when needed, then the AirMini is a solid choice. You'll find useful accessories, plenty of options to power it away from traditional power sources, and a unit that slides in and out of your bag easily yet still provides a good sleep therapy experience over a short spell.
You won't spend the first half hour of your trip trying to connect the unit to your phone because the setup is super fast, and the app itself is user-friendly and succinct.
You'll also not need to have access to distilled water in order to get some form of humidification during the night, which is another great benefit if you are tent camping or your access to distilled water will be difficult or too heavy to pack.
If you have any further questions about this unit – because let's face it, everyone's needs for sleep therapy are unique – then please give Respshop a call, or visit our site, and wherever you are, sleep tight.
Resmed AirMini Travel CPAP FAQ
Q: Can I use AirMini daily?
A: Technically, yes, you can. However, you will not get a full humidifier, and you'll probably wear it out before it's time. A travel CPAP is really meant for travel. 
Q: How long does the AirMini last?
A: There is no definite time limit on a CPAP machine. If you use it as designed – for travel – it will last a lot longer than if you make it your everyday machine. In general, CPAP machines should be replaced every 3-5 years.
Q: Can I use the AirMini without HumidX?
A: Yes, you can. Just purchase regular filters instead of the HME filters.
Q: Does the AirMini have a battery?
A: AirMini does not come with a battery. But you can certainly power it up with a battery. To do that, you'll need the 65W ResMed AirMini DC/DC Converter and an aftermarket CPAP battery, such as the Medistrom Pilot-24.
Q: What masks work best with AirMini?
A: The AirMini works only with these masks (Respective Setup Packs Required):
Q: Does the AirMini have SD card functionality?
A: No, it does not. It uses internal memory and the AirMini app to store and display 30 days' worth of data. 
Q: How much power is used by the ResMed AirMini?
A: 6.3 Watts, 27 Watts Peak.
Q: When was the ResMed AirMini released?
A: May 2017.
Q: Can I make my AirMini less noisy?
A: You can use a special muffler and a quite convoluted process described here. However, we would advise you not to tinker with your device because that could void your warranty. Travel CPAPs are generally slightly noisier than regular CPAPs because of a smaller casing that houses a motor that needs to deliver pressure similar to that of an in-home unit. 
Q: How quiet is ResMed AirMini?
A: The AirMini is slightly noisier than the AirSense 10 or 11. However, for a travel CPAP, it is a rather quiet machine. 
Q: How long does ResMed HumidX last?
A: Resmed recommends changing the HME filters every 30 days.
Q: How do I charge the battery in my ResMed AirMini?
A: If you are using an aftermarket battery, such as the Medistrom Pilot-24, you'll need the 65W ResMed AirMini DC/DC Converter to connect it to the unit. The battery comes with a charging adapter.
Q: How do I adjust the pressure in my ResMed AirMini?
A: You can adjust your settings by using the AirMini app. Here are the instructions from ResMed.
Q: How do I get the data from my AirMini?
A: You can opt to allow the app to upload your data to the cloud. You can find the instructions on page 10 of the ResMed manual for AirMini. 
Q: How do I program a ResMed AirMini?
A: You program your AirMini using the AirMini app available for free from Google Play and Apple Store.
Q: Does the ResMed AirMini use water?
A: No, the AirMini uses a waterless humidification system called HumidX. It employs special heat and moisture exchanger filters (HMEs) that reuse your own breath's warmth and moisture to provide heating and humidification.