Today we're going to be taking a close look at the Transcend Micro Travel CPAP. This tiny unit is considerably smaller than other travel devices. And with its simple interface, broad compatibility, and handy range of accessories, it is certainly worth considering as your go-to travel option. 
As with all CPAP models, the choice is not a black-and-white matter. It is more about thinking about what you want most from your CPAP machine and how the various options available to you stack up. 
The Micro Is Ultra-Compact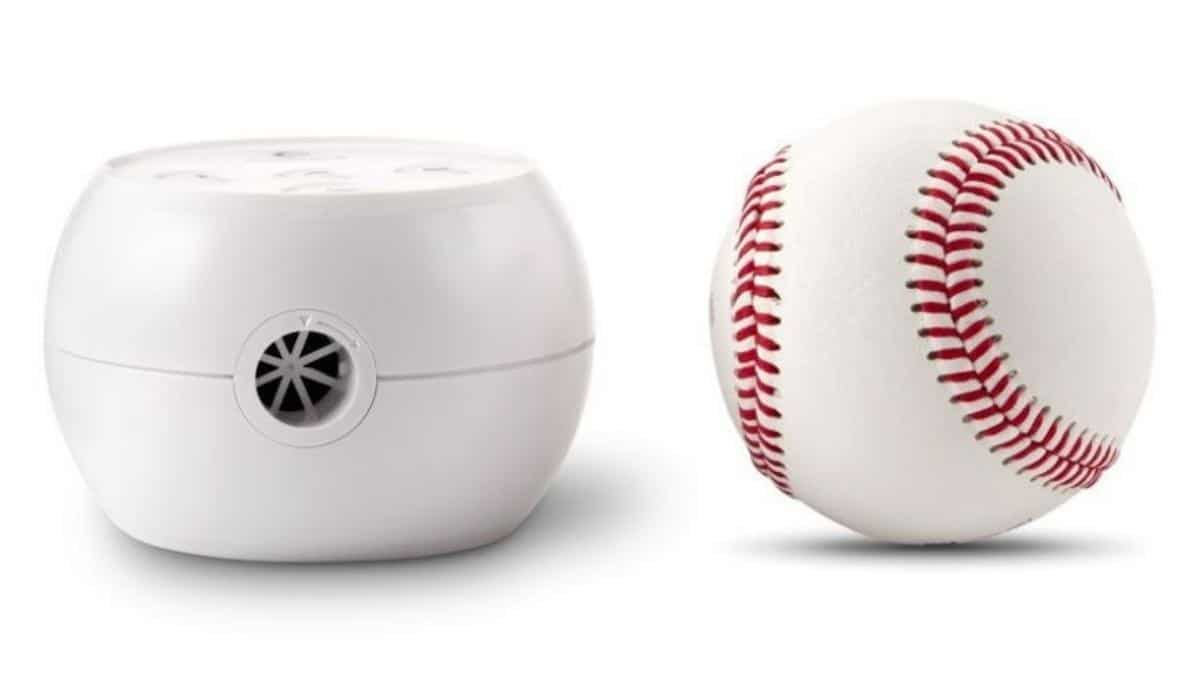 One of the biggest selling points of the Micro is its very small size at under four inches across. Yes, barely larger than a baseball, it is considerably smaller than the AirMini, which was the smallest CPAP prior to the advent of the Micro. 
The small size means more bag room for other things. You can easily find somewhere to place your CPAP if space is limited, such as when you are traveling in an RV or are renting somewhere 'cozy' for the night.
The Micro Is Ultra-Light
As for weight, the Micro is listed at just under half a pound, which compares well with the AirMini which comes in at about two-thirds of a pound. The reduced weight means it is an ideal choice for traveling, especially if there are weight considerations, such as on flights.
And the device itself, as well as all Transcend accessories, is FAA approved. On the flip side, the low weight of the unit does mean that it can get easily pulled off small tables or shelves if you tug on your hose. So this might be something to bear in mind if you tend to move a lot during the night.
The Micro Is Quiet But Perhaps Not Ultra-Quiet
As with all travel CPAPs, the smaller unit size means there is less internal space available for sound absorption, which generally means they will be slightly louder than your at-home device. This is a common problem with all travel devices.
But you'll be pleased to know that Transcend is very aware of this tendency and has focused on offsetting this drawback as much as possible with the Micro. The unit has incorporated air-bearing blower technology along with in-built sound and vibration dampening.
Transcend reports the sound level in a typical use environment as being a very reasonable 27 dBA, which is an impressively low noise level to achieve. But noise can be a difficult metric to quantify with a standalone figure. And often noise levels can be subjective to the individual user.
Here at Respshop, we are constantly testing equipment ourselves so we can give you the best information and recommendations. It must be said that we found the Micro to be quite noisy.
So, for those who are particularly sensitive to sound while sleeping, we would still suggest throwing a couple of earplugs into your travel bag just to make sure your sweet sleep remains undisturbed. Even if you don't use them, having them handy for the first couple of nights while trying a new machine is often a good idea.
Now to offset the sound issues further, the Transcend Micro includes their trademarked WhisperSoft muffler. This funky-looking device can be placed in between your mask and the 6ft standard tubing to reduce the effects your inhalation and exhalation have on the sound level coming from the machine.
Note, however, that you cannot use the muffler with the supplied microtubing. The Micro comes shipped with two 6ft hosing options, so you have the choice of using the machine with or without the muffler attached. And, of course, you only need to take your preferred setup with you when traveling with this device.  
The Micro Offers Great Mask Compatibility
Speaking of mask hoses, another plus with this device is its compatibility with all masks, including those made by 3rd parties. This flexibility is a potential factor in reducing the overall cost to you when choosing this machine.
It also means that you can simply pop your most comfortable mask into your bag and be confident it will work when you travel. The more home comforts you can take with you on your journey the better. 🙂
The Micro Is User-Friendly
The Micro is also very easy to use. If you purchase it from Respshop.com, we will program it based on your prescription before we send it to you so you can just unbox, plug in, and go.
User Interface
And the unit itself has only four buttons. There's an On/Off button, although this machine also has a nice auto on/off feature, too. There's also a Bluetooth button for connecting with your smartphone – more on that later. The third button activates the Ramp feature to make falling asleep that bit easier.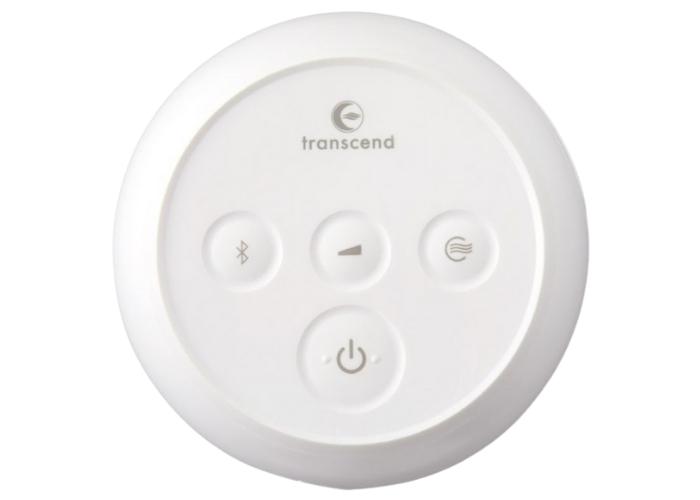 And the final button activates a very cool feature with this device: Drying Mode. When this button is pressed, the unit emits a stream of warm air into the attached hose and mask for 30 minutes before automatically switching itself off. This warm air clears out the moisture from your tubing, which reduces bacteria growth and makes it nice and dry, ready for your next night of sleep.
Humidification
Talking about moisture, you'll notice that with a unit this size, there is no space for a heated humidifier. But Transcend has you covered with its AirMist HME system, which consists of an attachment that can be connected to your mask elbow.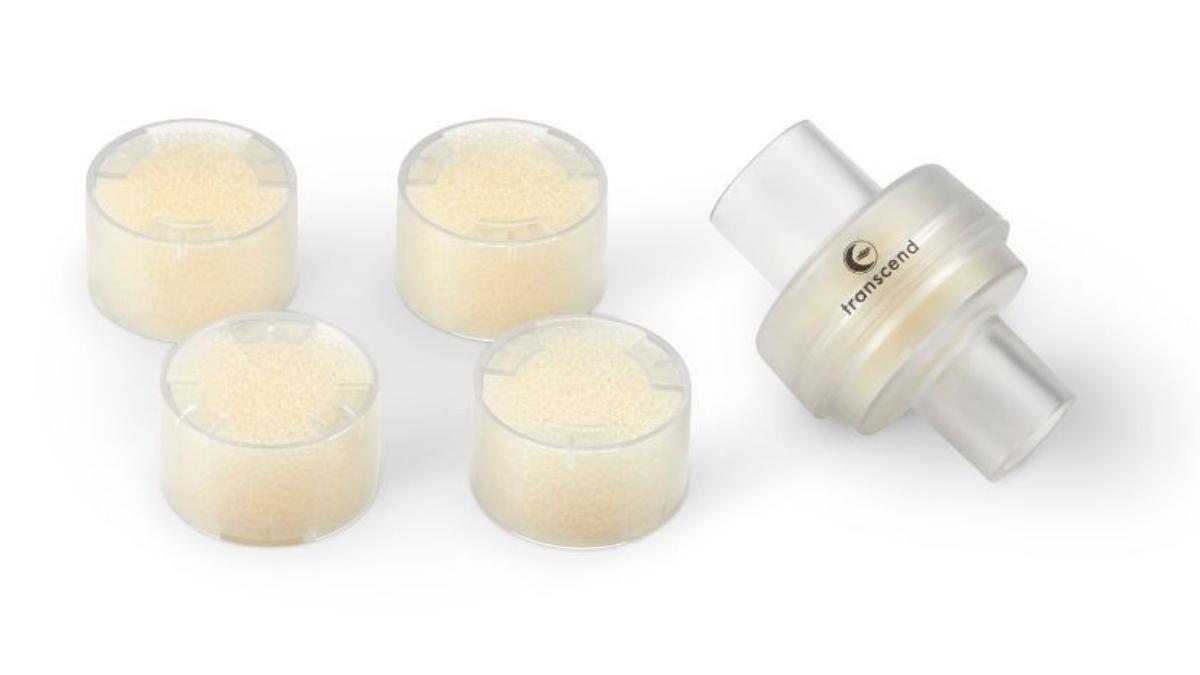 This system is designed to capture the moisture from your breath when you exhale and reintroduce much of that moisture back into the air when you inhale again. This process helps keep your mouth moist while you sleep and prevent that unpleasant dry mouth you can otherwise get when using a CPAP without a humidifier.
Now the bad news is that you need an AirMist HME kit to use this system, and these must be purchased separately. But the good news is that the AirMist kit includes a plastic HME adaptor and some foam cartridges that can be replaced independently.
This separated system means that you can simply replace the foam cartridges and give the adapter a clean whenever you need to freshen things up again. The foam cartridges can be bought in larger quantities and frequently replaced. And since the adapter lasts for three months, Transcend has been able to keep the price down a bit, making this less of an expense than other similar systems currently on the market.
One thing to note is that you cannot use the AirMist HME kit with any mask that has a hose attached directly to the mask itself. It needs to have an elbow that connects the tubing to the mask for the AirMist kit to be compatible. The kit does work with either the standard or micro tubing that is shipped with the Micro, unlike the muffler.
Connectivity
This unit doesn't come with a screen of its own, so you will need to connect it to one to read your data or generate a report, and the Micro gives you two options to do this.
The Bluetooth button lets you connect the Micro with the MySleepDash smartphone app that is available on Google Play and Apple's app store. There you can see all your data and reports, and this information can be shared with your healthcare provider.
The other option is to plug the unit into a laptop using the micro-USB port at the base of the machine. In that case, you'll need to get a USB cord yourself as the machine doesn't ship with one. Whichever way you connect, your data can be simply viewed, stored locally, or sent to those who need it.
Power Options
All this reduced size and weight would be pretty pointless if the Micro needed a huge power cord and weighty transformer for it to work. Fortunately, there are no hidden problems here. The cord is about 8 feet long, so long enough for most requirements, and the transformer box is relatively small and light.
And if you want to use your CPAP without the cord, say, if you are camping in the wilderness or something, no problem! You can plug it into Transcend's overnight battery for 7 to 9 hours of use, or their multi-night battery for between 14 and 16 hours of use.
Either battery can then be recharged by means of a wall socket, a 12-volt DC supply in a vehicle by using Transcend's mobile power adapter or even recharged by the sun using Transcend's portable solar battery charger. 
These plugless power options do, of course, require accessories that would need to be purchased separately. But the flexibility available in the way you power it, combined with its groundbreakingly small size and weight, make its utility as a travel device for all occasions unrivaled.
In Summary…
All things considered, if convenience and flexibility are high on your travel CPAP must-have list, or if you are looking for as portable of a setup as possible, then the Transcend Micro is surely worth a look. With the Micro in your bag, you can travel light but sleep deep.
So, there you have it. We promised a full review of the Transcend Micro, and we delivered – you're welcome. And if you have any further questions about anything CPAP-related or to do with your sleep therapy, then contact us.
And wherever you are, sleep tight!